Center piece stone-wall-fountains of art
---
Ornamental stone-wall-fountains are perfect when you want a water feature near a courtyard, but you are limited on space. Surround this unique type of fountain with natural plant life and a flower garden for a natural addition to the surroundings.

These are like individual pieces of art for the garden or courtyard they just blend into the decor when they are not running. But , when they're on they add two more treats for the senses, the sound and the shimmer of the moving water.

This landscaping water feature is adjacent to a very large covered patio. The homeowners love to entertain outdoors and wanted a controlled water feature that was low maintenance and not too loud. This was my answer to their desire. It's free standing with a mound behind . Now that's a conversation piece. I know right!
---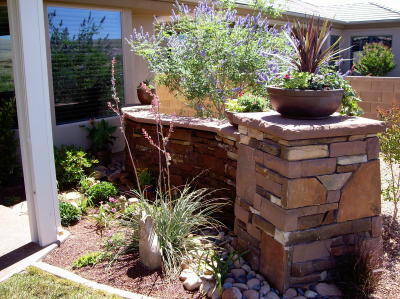 The chaste tree was already there and we built around it. By a hundred miles this is the favorite wall fountain we have designed and installed. It is a pondless design so that when not in use no maintenance is required . If left on all summer, all that needs to be added is some chlorine, to keep the algae from growing.



Water Gardens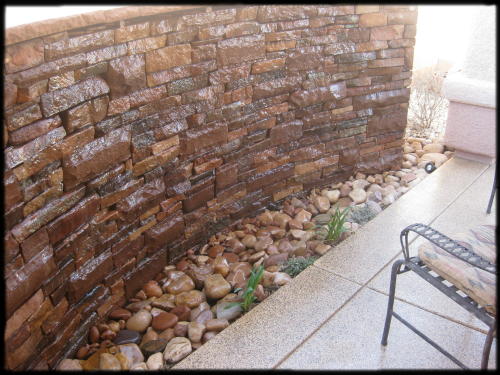 This weeping wall fountain adds depth to a shallow and small back patio. the back property line was only 3 feet from the edge of the patio shown here. By adding this water feature the guests can enjoy privacy as well as the water feature. Lets not forget the subtle noise given by these wall fountains.

The gentle trickle of stone-wall-fountains doesn't overpower conversations, instead it calms them. You can talk with your friends and guests in a whisper without even realizing it. The sound provokes conversation and invites thought and intellect.

Kinda reminds me of my massage therapists waiting room. The gentle sound puts you in another place and elevates your mood tremendously. This is the kind of environment that provokes positive thoughts and attitudes. Think of it as your therapy fountain.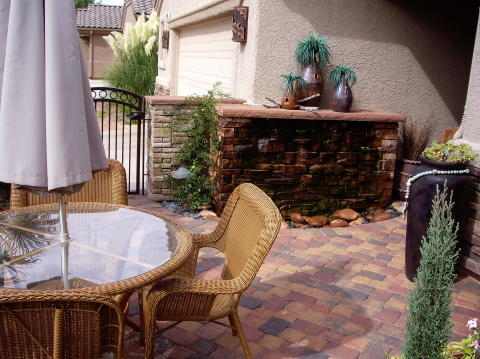 Lighted Water Fountains
Backyard Water Features
Statue Fountains
Indoor Water Fountains


---
stone-wall-fountains top of page