Retain a slope or create more usable space with landscape-retention-walls
---
You can create more usable space with landscape-retention-walls. Prevent erosion and keep the elements of a landscape from sliding down to the bottom, by changing the slope of a hill. A wall to hold back the slope, also looks good if it is finished with stucco or brick.

In the landscape-retention-walls shown in this southwest landscape , the home is about eight feet above the sidewalk grade. In order to create a usable back yard we had to design the walls in conjunction with a sloping grade, to provide level yard space. That doesn't mean it has to be unattractive though. This curving landscape retention wall matches the stucco color and also the color of the privacy wall around the yard, the curvy shape blends it together with the landscape plants , creating a variety of planter sizes to be used by a variety of plant sizes.
---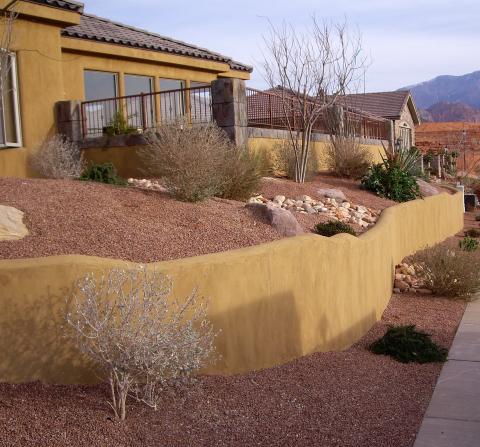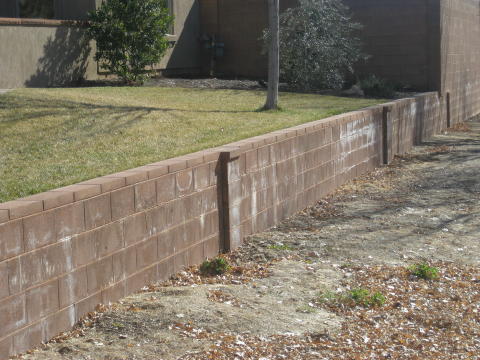 In this picture the retention wall is the landscape border . The riding mower is driven on top of the eight inch wide retention wall without a problem. and edging against the wall is no problem because the lawn is the same grade as the top of the wall.


This creative use of landscaping blocks for landscape-retention-walls allows the walls to start and end smoothly. This type of wall is called Diamond Block , it is nice because it can be manipulated to form curves, and also the blocks have no mortar between them so if there is any settling it won't really show any cracks. Landscaping fabric is used to prevent any silt or dirt from coming through the gaps, and construction adhesive is used to joint all of the blocks together making the group of blocks as one.
Diamond wall retention systems do have limitations though. See the local supplier for a free design and engineering on your particular wall situation.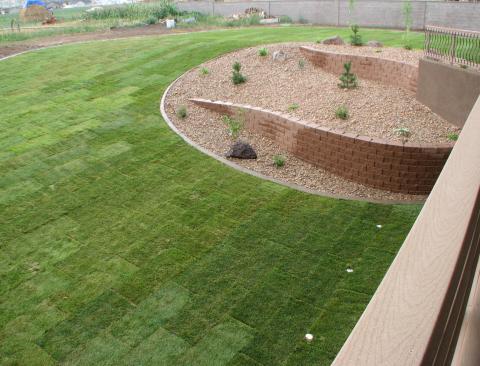 In a situation like this, don't forget to think about
, because all that water coming down the slope of grass to the basement patio could spell disaster if the drainage isn't handled correctly.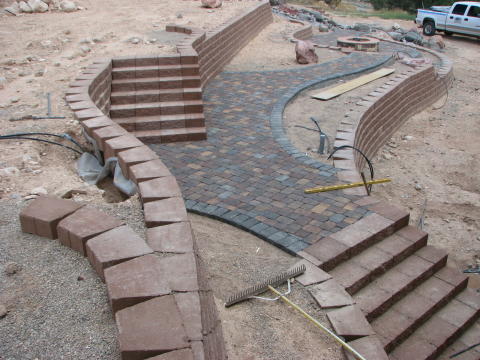 It took some time to perfect the stairs incorporated into the landscape-retention-walls. But now that we have, it just seems so simple to look at. We install a lot of these and I'm always amazed at how easily this design can make a functional access through a retention wall to an elevated area of the yard. This particular landscaping is not finished yet. But you can see they want access to the upper level from the basement level. The plan is to have a manly mans garage at the top of the stairs. Shown here also is a nice fire pit and pavestone patio. A natural creek style pondless water feature meanders down the hill too. creek style waterfall



Home


---
landscape-retention-walls top of page