Create a special place with backyard-landscaping-ideas
---
When you consider backyard-landscaping-ideas patio space and elements of nature such as fire, water, and of course trees and shrubs, will help to create an environment. Just think about what you enjoy, and the way you would like to spend your free time in the yard. This will help you decide what features you need to incorporate in your design.

Here is the backyard of a two story home with a walk out basement. Its on a corner lot so the basketball court ( closest in the picture ) is available for parking an R V or trailer with access from a side street.

In the distance you can see the fountains running down toward the bottom of the slope. The sunken trampoline is a popular feature with parents, because if a kid bounces off they are already at ground level. And of course it's much more attractive this way.
---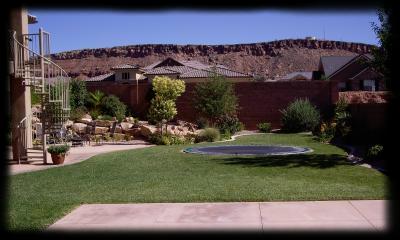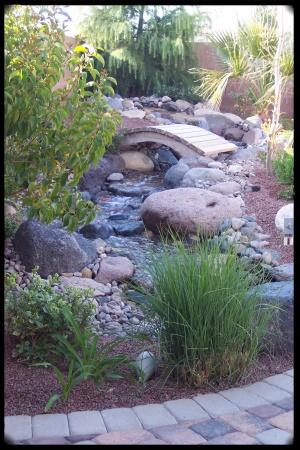 My favorite backyard-landscaping-ideas include fountains that are like your own creek at the flip of a switch. Install a pondless waterfall and you will have hours of enjoyment with nearly no maintenance. Don't you want to enjoy the sights and sounds of water?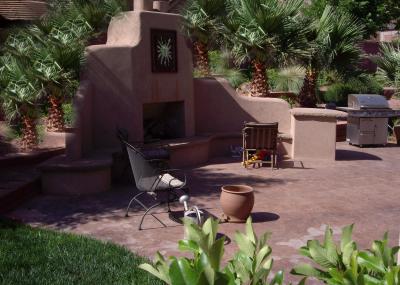 The free standing
outdoor fireplace is a great center piece for a patio landscape. Just add trees and plants behind the fireplace and a patio in the front to create a special place to socialize with friends and family. This area is an extension of your living space. It should be connected to the indoors by the kitchen or dining room door.


---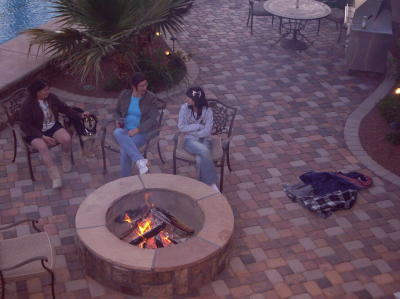 Now this is just like old times when we were kids. We usually end up here after a barbeque talking about the good old days watching the fire and listening to the fountain. There is nothing like a warm flame to keep it real and keep a person grounded. Fire pits in patio landscapes are handy for open fire grilling and dutch oven cooking too.

With all those fire restrictions because of drought, we haven't been able to do this when we're camping, so we have dutch oven parties now in the back yard. Nothing is more tasty than dutch oven cooking. These fire pits are really handy for that too. The mantle doubles as a counter top for preparing food and setting cooking utensils too.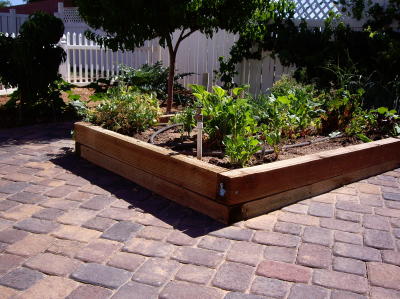 Maybe consider whether or not you want to have a garden when you think of backyard-landscaping-ideas. Gardening can help a person relax, and its also fun. With a garden you can enjoy better tasting fresh vegetables for less money and the best thing is you get to watch them grow. Learn how to grow tomatoes, beets, or even spinach and swiss chard and feel less dependent on the grocery stores.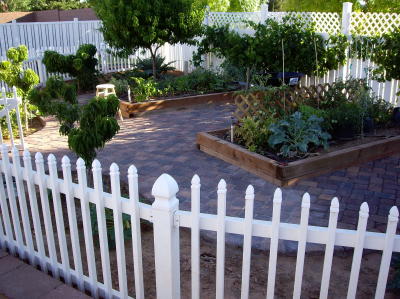 These grow boxes are great in patio landscapes, surrounded by a pave stone patio , there is no walking in the mud here. The fence finishes the look, establishes a border and keeps dogs out.

video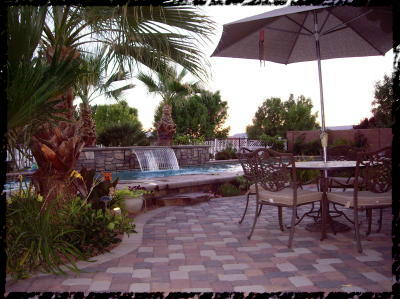 Doesn't this picture make you want to sit down, take a load off and enjoy the water features . I know I do. What an atmosphere I've created here. Wall of water in the background and cool pool next to that. Lots of space too.I think these are my favorite backyard-landscaping-ideas yet.
---