Use every inch of space when landscaping-small-yards
---
Utilize every inch of space landscaping-small-yards. Depending on your needs, if you create a patio or a courtyard near the access point of the home, it will serve as an observation point and also make the yard seem more spacious. Use smaller framed patio furniture instead of large bulky pieces, this will increase the space in the small yard design.
---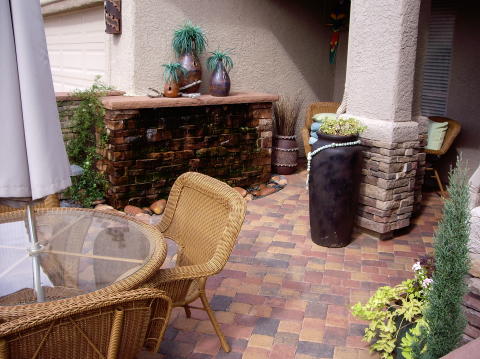 see the construction of this courtyard with wall fountain

The proper placement of certain elements can create space where you just thought there wasn't enough. With the semi-private fence used here, the neighbors don't even know when these folks are out on the patio as long as they are sitting down in a chair. Yet, when sitting on the patio , the homeowners can enjoy all of the surroundings.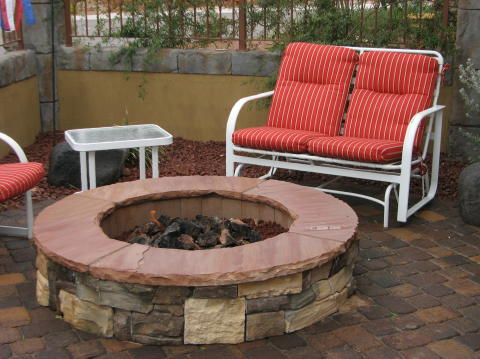 If you use your space wisely when landscaping-small-yards most landscape features like flower gardens, patios, water features, and even fire places, will still fit in the landscape design. These photos show a tiny yard, where we installed an outdoor fire pit with a paver patio and a pondless water fall. To save space the vault for the pondless water feature is hidden under the patio. You can't even tell can you. This is one of my favorite water features.

click here to see video of this picture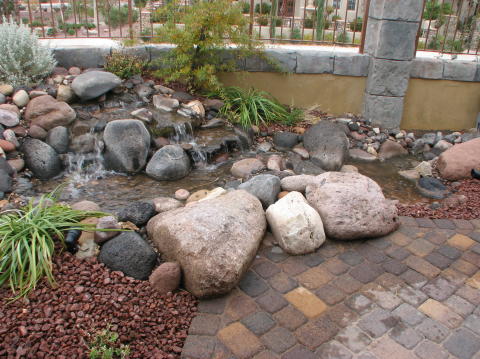 Below is a photo of a dry stack fountain. I'm not really a big fan of this kind of waterfall, but hey, It's not my yard. It's a pondless design and some black rocks were added to contrast all that brown. The real reason I'm showing this photo is for the video. Click the picture and you'll see the beautiful rock steps and pave stone design throughout the
courtyard . There is also some dry stack retention that creates elevated planters in this small yard design.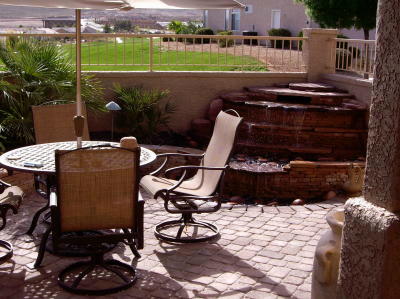 So, once again, when they sit out on the patio in their front courtyard , the neighbors and passers by don't even notice them. Yet while sitting in their they can enjoy all of the surrounding landscape. It enables them to enjoy a large area of landscape space from the privacy of their patio .







Home


---
Tips on landscaping-small-yards ...top of page