Beautiful front-yard-landscaping-ideas for your home.
---
Great front-yard-landscaping-ideas begin with the architecture of the home. Accentuate your home design with your landscaping, the style of the home will get you going in the right direction. Site conditions will also determine the functionality of your front-yard-landscaping-ideas. If you are landscaping a slope, the landscaping on a hill gives a majestic feel to the home, even if the stairs just go straight up the hill, this front yard turned out to be one of the best I've designed and installed despite the stairs, because it has curb appeal.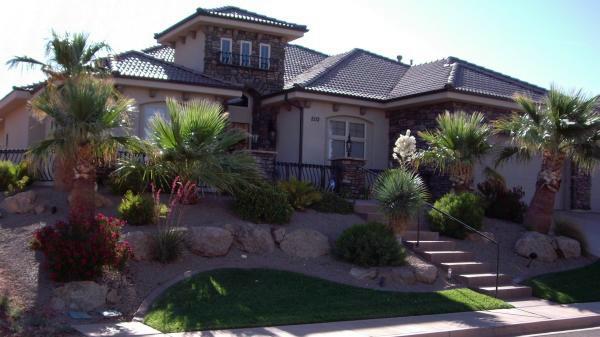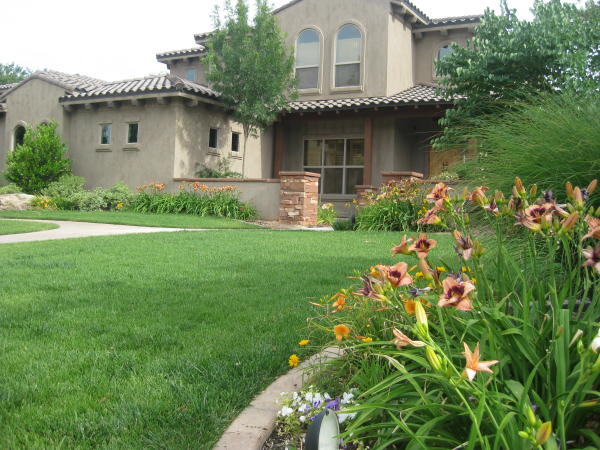 A variety of colorful flowers and some shade is always inviting. In spring time here in St George, Utah we get about 4 months of what everyone else calls summer. It's a good time to sit on the patio and listen to the fountains. During this time a wide variety of flowers or flowering shrubs thrive in the mild conditions. I always find myself saying that I wish it could be like this year round, but then the temperatures warm up and before you know it the daytime temperatures are reaching 110 and above. So we have to also use plants that can handle the extreme heat.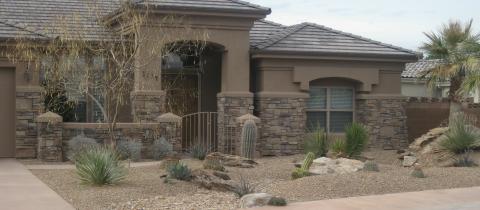 In southwest style landscaping the front-yard-landscaping-ideas use mostly rock and Desert plants. This style works really good in a hot dry climate. Drip irrigation is used to water the plants and trees, and the ground is covered with a rock mulch . The plants and trees used in a style like this may look drab in the winter but when spring gets here they will all bloom. The desert is a beautiful place in the spring.
Shown here, the front yard landscape has a dry river bed running through it. When it rains hard these are like natural fountains. The river bed is also where the rain gutters are drained to, it slopes to the city sidewalk where the water is disposed of. LANDSCAPE DRAINAGE is not an issue. This is a really good example of how the style of a yard is coordinated with the functionality of the yard. Remember, if you need help designing your landscaping, that's what I do so for an contact me and we can get started today.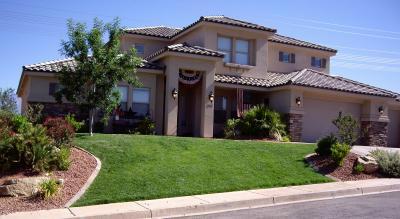 In a cooler climate, this kind of landscaping style is seen more often. Lots of grass, and grass used in landscaping a slope, are two front-yard-landscaping-ideas that are not a problem in a cooler, wetter climate. They are also two things that don't go well with 110 degree temperatures and expensive water prices. The water always wants to run down the hill and into the gutter, what a waste of water, but if money isn't an issue and you don't care what your neighbors think about all that water running down the gutter. This kind of a landscape does survive the hot desert sun.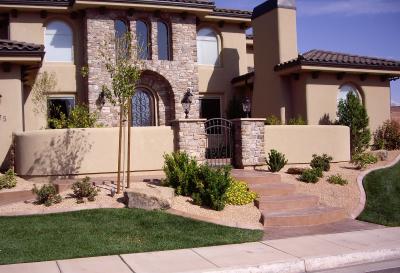 In this design the front yard is a courtyard. There is even an outside fireplace. This landscape design was planned around the beautiful southern utah sunsets. They are best in winter, so maybe thats why the outside fireplace.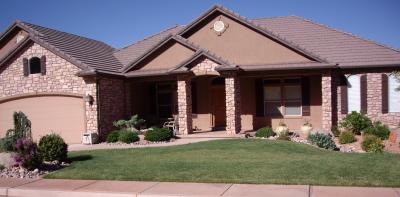 This home has a nice shady front porch for sipping lemonade, or a summer afternoon nap. Notice how inviting the large lawn looks. It welcomes you to come visit the neighbors.




Water Features and Koi Ponds







Construction of this Courtyard




front-yard-landscaping-ideas inside the courtyard can be a whole different type of landscaping. here we have a small water feature, and brick paver patio seating area. A weeping wall fountain provides a subtle water sound & shimmer, that doesn't overpower conversation.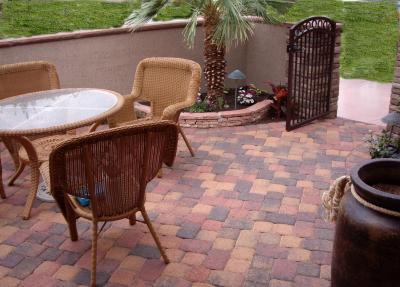 This is a look at a different angle inside the same courtyard.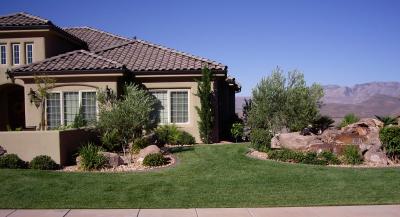 This water feature and fountains is not inside the courtyard ,but you can still hear it loud & clear from the patio.









---
Great front-yard-landscaping-ideas top of page