Warm up the outdoors with an outdoor-fireplace
---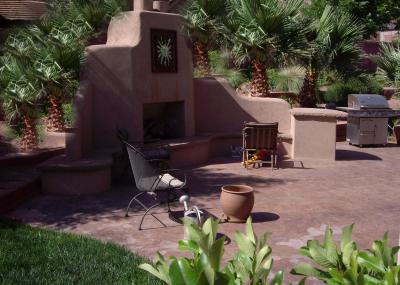 An outdoor-fireplace in the back yard sets the stage for a gathering area. If you incorporate a good fireplace mantle design along with fireplace tile designs and decorations the boldness of the structure isn't so harsh. A basket of wood, and some fireplace tools are some more good fireplace decorations.
Creating an outdoor fireplace that makes you and your guests feel comfortable is the goal here. Some nice comfortable chairs with a fireplace rug, will do the job. A little different from a fire pit, the fireplace has a back drop effect, because of the height and width, that gives the patio a feeling of privacy. It's like a living room in the outdoors. Now that's what I call creating outdoor living space.


In the Pine Brook subdivision here in St George there is a row of homes whose backyard is the road. This road is about six or eight feet above the level of these homes, and the backyard are only fifteen feet to the property line. The contractor did an ingenious thing with the back yards of all these homes. He built an outdoor-fireplace in each back yard. These are combined with retention walls to create a transition to the upper level. Some of the yards have barbeques and outdoor kitchens built into the wall on the side of the fireplace.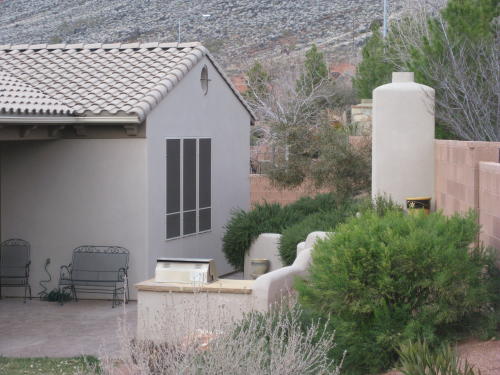 So the contractor C. Blake Homes handled several problems with this design. He created a private patio space with a fireplace, barbeque, & outdoor kitchen counter top space. In addition to making the road disappear, he created terraces for the landscaping and solved a possible drainage problem. These structures also make room for a good level access behind the home to get to the rest of the yard.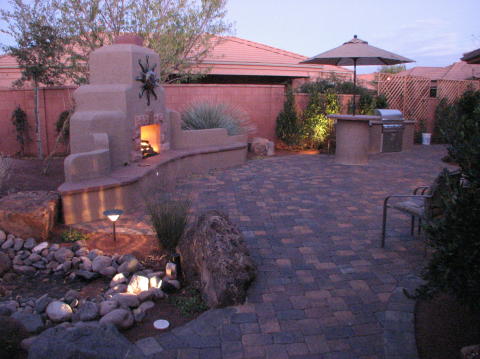 This outdoor-fireplace and patio displays a good example of fireplace tile designs. These are around the opening of the fireplace,and they're made of real stone. Notice the table top and outdoor kitchen on the other side of the yard. We made all of the stone tiles and stone trim the same color. It's amazing how all this stuff fits together when you design it with an overall concept plan.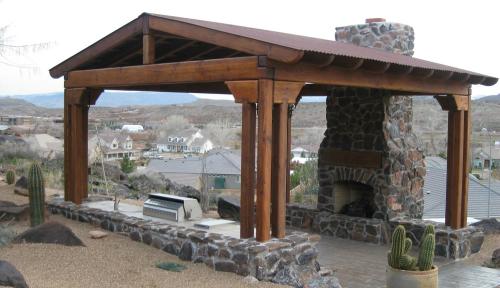 If you want to really connect with nature build a stone fireplace with the native stone from your property. In this photo the builder did just that. Before he cleared the lot to start construction, he hand picked the beautiful surface rock and set it aside for use in the stone work. Now the fireplace blends into the natural surroundings easily.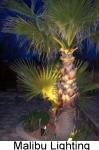 Home


---