Including outdoor-kitchen-plans in you landscape design.
---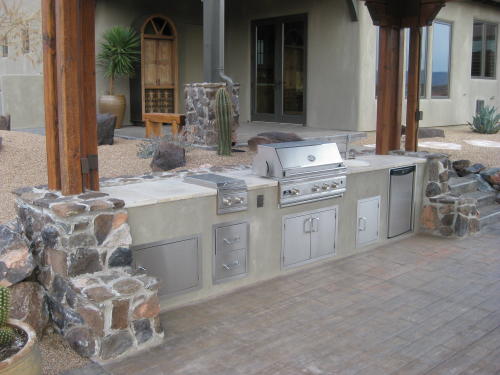 For ultimate outdoor living include an outdoor kitchen into your landscape design. The outdoor-kitchen-plans should incorporate a grill, and other kitchen features such as a sink or fridge, and drawers and cabinet space. The best part of a good outdoor kitchen is nice tall table tops. This way you can enjoy the company of friends while doing the tasks of cooking for them and experiencing the outdoors all at the same time.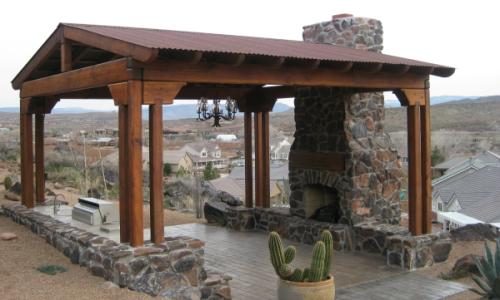 Outdoor kitchen designs that include an awning or shelter are a good idea. It's no fun getting rained out when your having a cook out. An outdoor fireplace is great for taking the chill off during cooler seasons.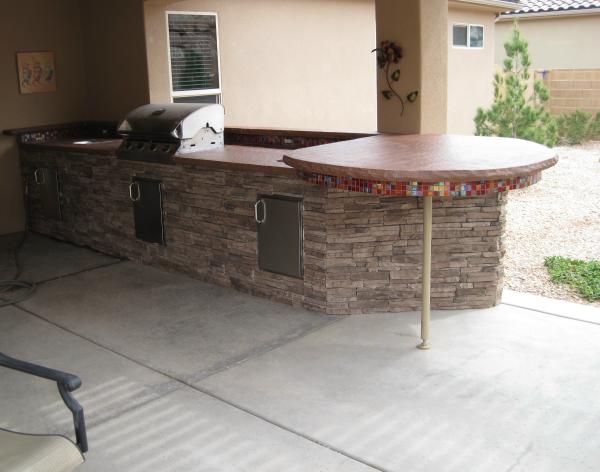 Outdoor Kitchen ideas with a little color splash like these red glass tiles help tie the whole patio atmosphere together. Just think of yourself as an exterior decorator. The barbeque island doesn't have to be boring.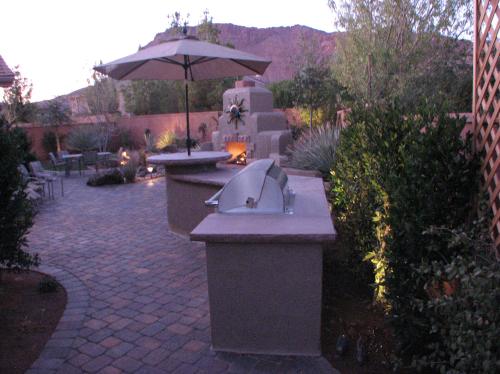 The outdoor kitchen island shown here has everything you could need for entertaining. The circular tabletop is bar height to accomodate standing or those tall chairs. From the round bar the guests can enjoy the atmosphere that this landscape provides.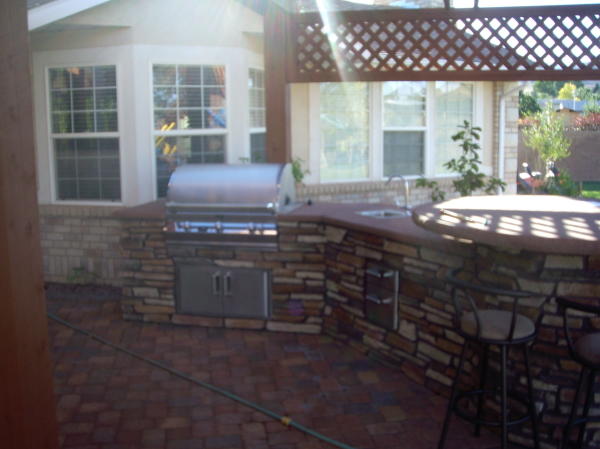 This is the same design but the pergola is incorporated into the patio and makes the area shady. The table top on this is 6' across & 44" tall awsome!!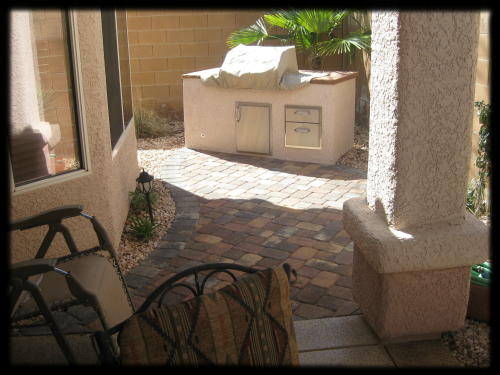 In this situation, the customer wanted an outdoor kitchen and an extension of the patio. Of course we used brick pavers cause they're really cool, and then we placed the barbeque at the far edge of the new patio. The palm was already there so I used it as a backdrop to the kitchen area. There is a built in drawer set to store paper towels and spices, and if you look close you can see the gas shut off on the lower left. The shut off valve built into the structure is a must on these, no worries about accidentally leaving the gas on and running up the bill.






Home


---
outdoor-kitchen-plans top of page