Great flower-garden-ideas for a colorful relaxing environment
---
With these flower-garden-ideas learn to amplify the color of flowers and create areas of the landscape to relax the mind, by understanding the function of a flower garden.

By using other plants or solid masses such as a wall, landscape boulder, or the pillar of a house, as a back drop, the colors of a group of flowers can be more easily noticed. In the photo below there are several backdrops for contrast. The short piece of pickett fence is a great example of a backdrop.
---
Here these daylillies in front of the boulder and the privacy wall show off the color of the flowers. Sometimes a group of one kind of plant is really cool.
Day lilies can bloom all summer long in a cool weather climate if they are maintained and fertilized correctly. Like other bulb type perennials sometimes the bulbs must be dug up in the fall and separated to promote more growth. This also gives a gardener the opportunity to add some fertilizer to the soil and aerate the soil, which will also promote plant growth.
This is my home by the way- can you tell what kind of flower I like best?


---

Many flower-garden-ideas start with boulders or architectural features. In a southwest design we will use boulders and architecture as the pallet to display the many colors of the desert. A flower garden design that uses desert plants will require the least amount of attention, usually a pruning and some fertilizer in the winter is all that is necessary to promote colorful springtime growth and a uniform look all year long. A good dose of fertilizer will also ensure that the spring flowers from your desert plants are brilliant and vivacious.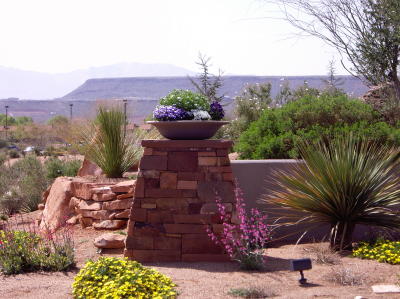 Flower gardens come in all different shapes and styles. Varying sizes of plants and heights give depth and intensity to a flower garden. The mass of one thing or another like a dry stack wall or a rock covered pillar will add a new texture whereby the flowers can stand out even more.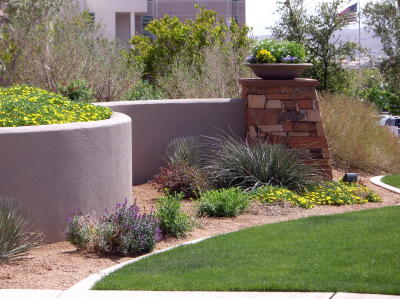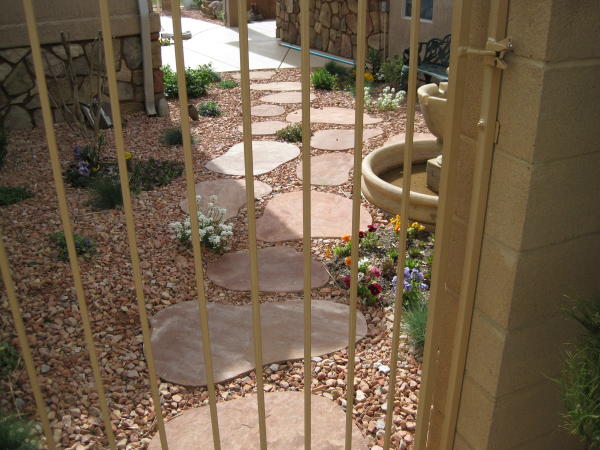 A flagstone path cutting through this garden adds sophistication as well as another texture and color. The precast fountain provides another of the senses, the trickle of water falling. many flower gardens have simple fountains to provide a relaxing sound to the atmosphere.
---
Many flower-garden-ideas top of page