---
Correctly placed shade-trees reduce power and water bills
---
Creating shade with shade-trees is only part of the benefit we receive from these large trees. Blocking the sun also cools down the yard, saves electricity, and benefits the other landscape plants in the area, which in turn saves on water too.
---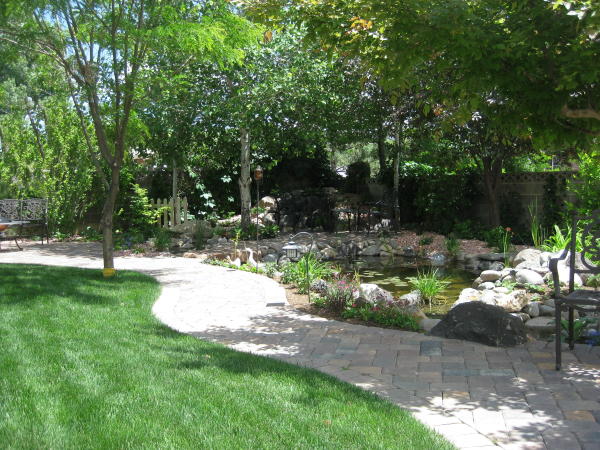 As you know trees breath carbon dioxide and exhale oxygen. So it's no wonder you can feel so relaxed sitting under a shade tree on a hot summer day. Think of it as your own personal oxygen bar. You know people pay big money for that sort of thing.


Cooling the air around your home or landscape helps the other plant life to thrive also. Protection from the sun and wind is a benefit to other plants too. And then there is the look. Placed correctly shade trees serve as a backdrop for the home or landscape scene.

In this case these mature trees make this new water feature koi pond and patio look mature, right now. Boy talk about a private back yard. This landscape is the envy of the neighborhood. We created plenty of room to entertain too, with a large pavestone patio.

Shade Trees in St George, Utah are a welcome site on a hot day. The proper placement of shade trees can save thousands of dollars. Large trees in your landscape placed in the right locations can help to reduce your power bill by blocking out the harsh summer sun.

The cool thing is, the same tree can let sunlight in your windows during the winter, and heat the home when the leaves are off the tree. Shade trees, window exposure, and placement of the home on your property, are all factors that can cost you extra money or if done correctly, save you money.