patio-awning-ideas to soften the sun
---
Improve a deck or patio area with patio-awning-ideas that add interest to your patio, create shade, and also provide a structure for vines to grow on. Locating an Aluminum Awning or a Pergola made from rough sawed beams into your landscape layout,can provide a structure for displaying flowers. A free standing awning can create the option of shade or sun from a vantage point where the surroundings can be enjoyed.

patio-awning-ideas shown on this page can improve a regular patio drastically. By adding the color and texture contrast, the overall look of the landscape is more sophisticated. A feeling of shelter from the elements is achieved with an awning or trellis. Its nice to be able to enjoy mother nature without being subjected to the full intensity of the forces of nature. Whether it's simply blocking part of the suns rays, or protecting you from a rain storm an awning lets you enjoy nature on your own terms.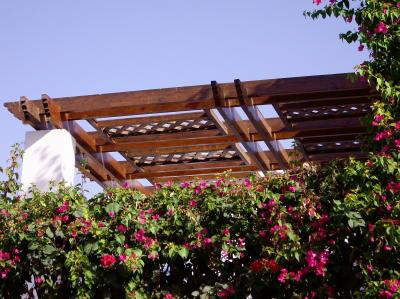 I took these photos in the fall of 2008 when I was in Sharmel Shiek , Egypt of all places.( tip of the Sinai peninsula) " great scuba diving there, really clear blue water" Along with the multitude of rock structure photos I came home with, these were the only photos with actual color in them everything else was just brown or tan including the water.

Thats my little dig into Egypt. We were only in Sharm long enough to get some photos, and eat before they rushed us off ,go figure, to another venue-moses mountain ( Mt.Sinai) but thats a whole other story. The Egyptians created the Sharm area as a tourist only attraction for the Europeans. Kind of funny, there were no women in berka's and dressed in black. in fact I did not see any women that were not tourists while we were in Sharm.

I was really impressed with the simple yet sophisticated design of the wood structure, and the big time contrast it has on the all white buildings.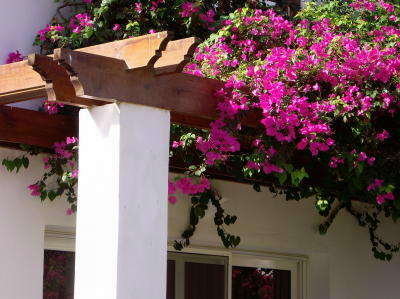 Using flowers in patio decorating ideas adds a
flower garden feeling to the hard surfaces of a patio or awning. It's good to soften the hard scape with a planter or a planting pot. This special patio is located in Cedar City so the climate allowed us to plant hostas and other cold weather flowers and plants. Summer time is sure pretty in Cedar City.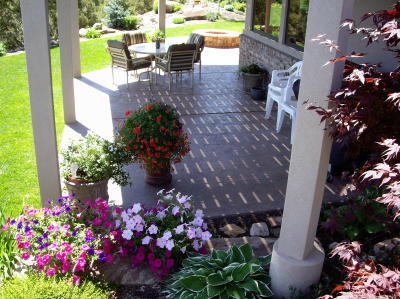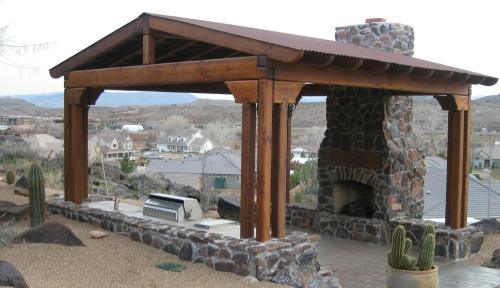 This is kind of an abstract patio-awning-ideas , but I do like the open beam design combined with the fireplace and the tin roof. The overall concept is great, but it would be better if it was surrounded by evergreen trees and not on top of a hill. It does allow you to enjoy the outdoors without being fully exposed to the elements though.
Home


---
patio-awning-ideas top of page