---
The use of landscaping-gravel in planters as a ground cover
---
The use of landscaping-gravel in a landscape design gives it a complete or finished look just like using bark mulch does. The difference is that gravel won't blow away. The color you select can change the look of the landscaping completely, and also reduce maintenance.


When I first started in the landscaping industry landscaping-gravel mean the rock for an R.V. pad or driveway. We laid down a 6 mil. visqueen and then the rock to create a cheap area for parking. Generally gray concrete rock was used.
---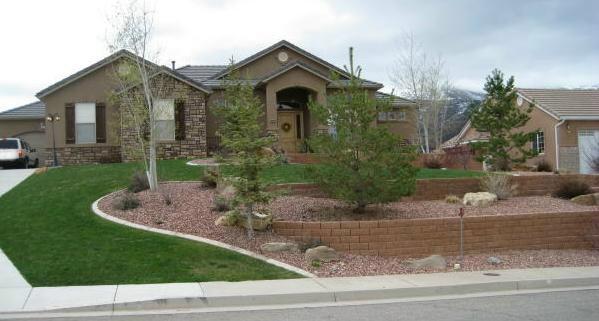 Then some guys started mixing some red rock with the grey, and calling it desert blend. That's the first time I ever heard a name for a gravel other than concrete rock or grey rock. Now we have names like Hualapi Red, Arizona River Rock, Desert Sage, Valentine, Champagne, Rebel Red, Sedona Brown, and Anasazi.


You can go down to the local rock yard and select from 30 different sizes and colors including mixed colors of river rock and crushed red and brown gravels of all sizes.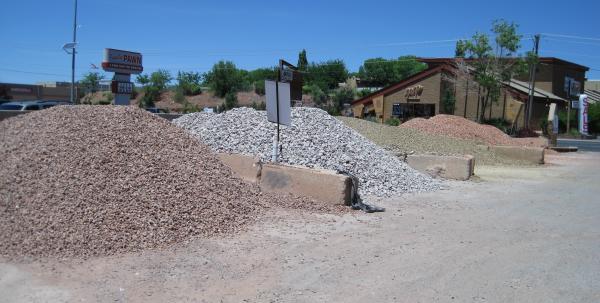 What I always tell a customer is that the rock needs to act as a neutral color to let the plants and boulders stand out. Avoid picking an overwhelming color that will dominate the look of the landscaping.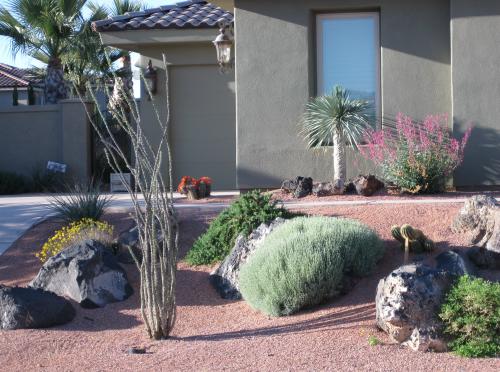 The pink 1/2" rock mulch here, ties into the roof tiles and the boulders match up to the stucco color. You can make yours look this good too just think of yourself as an exterior decorator when picking colors.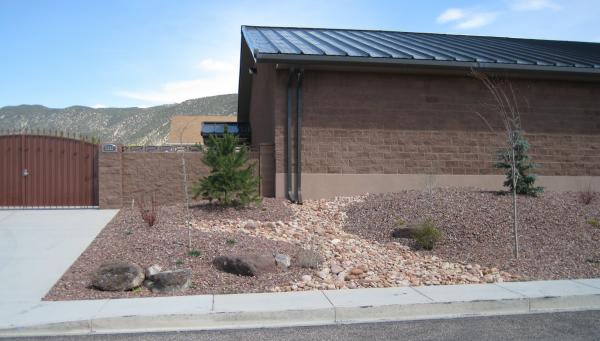 When making a color decision, first look at the colors of the home and pick one of the lighter colors for the landscape rock. The boulders can match the darker trim colors or the darker colors in the stone veneer.
It's very important to pick a rock that will hold up over time. Some of the rock out there looks great for a couple years and then begins to break down, avoid gravel that disolves. Ask to see an example that is at least a couple years old, in a landscape in your area.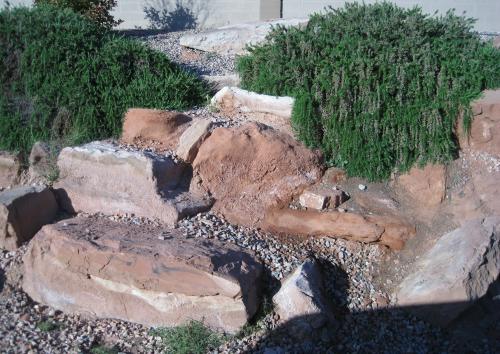 Some landscaping-gravel comes dirty and full of weeds. We have one called Desert Sage. I love the color combination of this rock but it is extremely weedy. The solution is to treat it immediately with a pre-emergent herbicide like snapshot or dimension, and continue a regular regiment or application every 3 months after that.
The point is, you'll need to educate yourself about the local choices of landscape-gravel to make an educated decision based on your wants, needs, durability and maintenance issues.

landscaping-gravel Top of Page