Step by step instructions and photos about how-to-build-a-brick-patio in your landscaping.
---
If you have ever wondered how-to-build-a-brick-patio into your landscaping, I can tell you how we did it. First of all, my customer already had this brick left over from the construction of his home and actually constructed some other patios in a similar fashion. We did something a little different though. We disected the landscape with a walkway and patio which livened up the looks of the yard. I really enjoyed installing this project, especially since the end result was so awesome.
---
Ever wonder how-to-build-a-brick-patio that will stand the test of time,and won't fall apart? Well so did I until one of the customers last year asked me to build one for him. We tackled this project like we were going to lay tile on cement, only it was bricks not tile. We poured a slab of concrete a few inches low and to grade, and then with thin set mortar mix we set the bricks on the slab.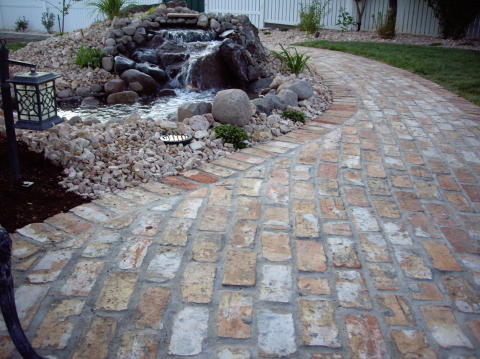 THEY ALREADY HAD THE BRICK FOR THE PATIO, IT WAS 100 YRS OLD AND IT CAME FROM A BUILDING IN CHICAGO THAT BURNED DOWN IN THE EARLY 1900'S. THE BRICKS HAVE VERY UNUSUAL CHARACTERISTICS WHICH COMPLIMENT THE DESIGN OF THE PATIO, SOME HAVE SMALL ROCKS EMBEDDED IN THE BRICKS OTHERS HAVE A FACTORY NAME STAMPED IN THEM, AND THE MOST INTERESTING WERE COVERED WITH BLACK TAR ON ONE SIDE. THIS APPEARED AS A BLACK LINE ON ONE SIDE OF THE BRICK.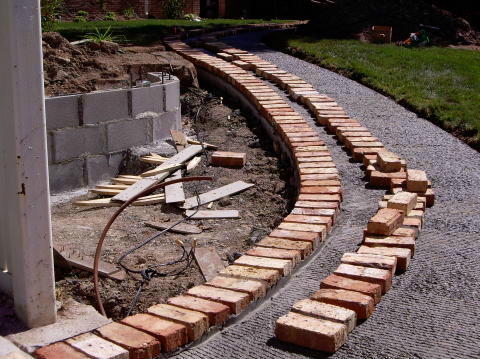 EACH BRICK WAS A LITTLE DIFFERENT SIZE AND REALLY NO TWO WERE THE SAME. ARE YOU WONDERING HOW-TO-BUILD-A-BRICK-PATIO OUT OF ODD SHAPED AND IRREGULAR COLORED BRICKS? WELL WE DID A FAIRLY WIDE GROUT JOINT SPACE TO ABSORB THE IRREGULAR SHAPES AND IT REALLY TURNED OUT NICE. A SLAB OF CONCRETE PRETTY MUCH THE SAME AS A CONCRETE WALK WAS POURED UNDER THE ACTUAL



BRICK PATIO . IT WAS FINISHED WITH A CONCRETE RAKE TO MAKE IT EASY TO ADHERE THE BRICKS. THE WALK WAS POURED ABOUT 4" LOW TO COMPENSATE FOR THE THICKNESS OF THE BRICK AND MORTAR IN THE PATIOS.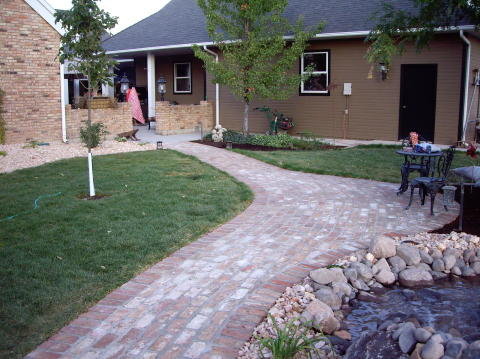 AFTER THE BRICKS WERE ALL SET WE GROUTED THE WHOLE THING JUST LIKE TILE, BUT WE USED BRICK MORTAR MIX INSTEAD OF TILE GROUT. AFTER IT WAS INSTALLED WE RUBBED IT WITH A SPONGE AND RINSED AND RUBBED AND RINSED UNTIL IT WAS ALL FINISHED. IN THIS PICTURE THE BRICK ON THE HOUSE LOOKS DIFFERENT, BUT IT'S ACTUALLY THE SAME. THE DIFFERENCE IS WE HAVEN'T ACID WASHED THE BRICKS YET IN THIS PICTURE. SO THERE YOU HAVE IT. IF YOU HAVE EXTRA BRICKS FROM THE CONSTRUCTION OF YOUR HOME HERE IS A GREAT WAY TO USE THEM.
---
how-to-build-a-brick-patio top of page